---
Kalakpa Resource Reserve
---
I sat on the stool in my little dome tent hide, looking out at the pool lit by the grey light that seeps over the eastern horizon before dawn. Birds called now and then from the strip of riverine forest beyond the pool, but I heard no other sounds. There was nothing of interest in the front window of the hide, nor either of the side windows, and I swayed on my stool, as I did at frequent intervals, to get a wider view of my surroundings.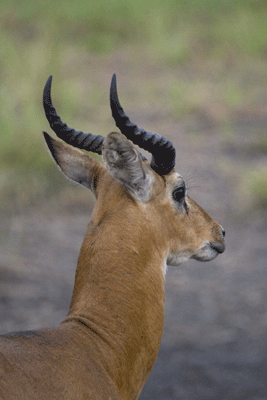 The kob stag was standing motionless about ten yards away, and continued gazing around the pool intently as I slowly turned the telephoto lens, protruding from the hide's front window, towards him. I pressed the button, and as he turned his head to stare through my camera at me, I did so again.
---
Kalakpa is a reserve in Ghana's Volta Region. If you want to visit it to see it's wildlife, then you can find accomodation in the town of Ho, 18 km away. From there, you take a shared taxi to the tiny village of Abutia Chloe, and from there you walk along a dirt road for 6 km. to the ranger's camp on the edge of the reserve. So Kalakpa does not get many visitors!
This suited me fine. I wanted to photograph African wildlife from my hide, in the hope of capturing photographs which showed animals which were unaware that humans were around, and I was allowed to stay in the ranger's camp. This enabled me to be out in my hide before first light, to catch the dawn activity, and again in late afternoon for the few hours before dusk.
For the opportunity to photograph the wildlife of Kalakpa, I would like to thank Mrs Vivian Nuhu of the Ghana Wildlife Department, the manager of Kalakpa Resource Reserve, George Asamoah, and the guide who looked after me, Francis Nsekpah.

---
---
All text and graphics © Pat Bennett 1996-2007
Stock photography by Pat Bennett at Alamy
Download our images 24/7 from Alamy - a leading portal for both general and specialist images.
---