---
Ghana & Elephants
---
At the end of March, I shall be joining an expedition led by Professor Adrian Lister of University College London, the object of which is to study the elephants of Northern Ghana which, while living in savannah, appear more like forest elephants than the savannah elephants. Could it be possible that we still are not sure whether there are two or three species of elephant in Africa? The expedition is run under the auspices of the Scientific Explorations Society, and some details about this and the other 2004 expeditions can be found at www.ses-explore.org.
I began my teaching career in Ghana back in the 60s, and have long hankered after a return visit in order to see what has changed and what has remained the same. At the end of the expedition, which will mostly be spent in the Mole National Park in Northern Ghana, I intend to stay on for another week in order to visit old haunts in the south.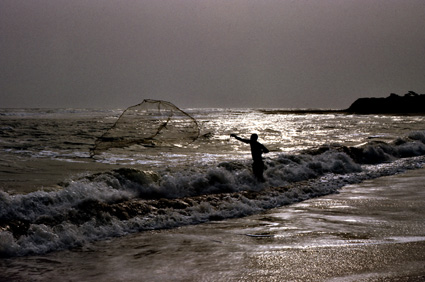 Castnet fisherman, Winneba Beach
I have been scanning old colour slides and B&W negatives, as I intend to take with me a small collection of photographs of people and places that I want to find again. It has been a nostalgic process, particularly so as the three years that I spent, with my young family, in Ghana was one of the most formative periods of my life.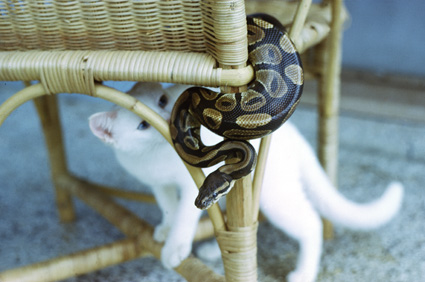 Pet cat investigating pet python
My home soon housed a small zoo as I learnt about the local wildlife, collecting some animals myself, and being given others by local people who soon learnt about my interests.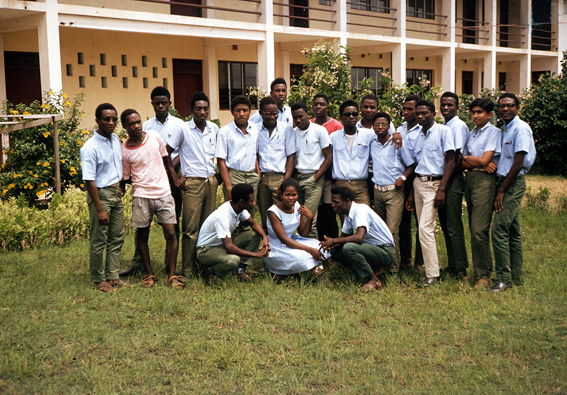 Sixth form students and laboratory technicians
I taught chemistry up to A leve at Winneba Secondary School, and was full of admiration at my students who had to learn, in a second language, the intricacies of a syllabus which, at the time, was in advance of the British A level chemistry syllabus.
The town was on the coast and had an active fishing quarter. I was fortunate enough to be introduced to a family of fishermen by a member of staff at the school, and went fishing with them in their sea-going dugout canoe.
Fishermen of Winneba at work
The fishermen are among the people that I want to see, and I would very much like to meet Alfred Nartey, with the yellow shirt and the big smile, again. I can only hope that the years have been as kind to him as to me.
Come back in late April to find out what happened. I do not know whether I will find anyone that I knew thirty five years ago. The figures which I have seen of life expectancy in Africa are no longer academic, and I wonder whether people are alive, as well as whether they will remember me - I have no doubt that they made much more of an impression on me than I on them.
Before I left Ghana, I travelled around the North by myself. I cannot remember where it was, but beside a dusty track, I remember finding a formidable pile of dung, and that was the closest I ever came to seeing an elephant. I believe that this time, I will get a bit closer - come back and see the pictures!
---
---