---
Australia
---
Well, actually, just a tiny little bit of northeast Queensland!
---
We flew into Cairns, hired a car at the airport, and drove off up the Captain Cook Highway, straight along the coast. Then a left turn up into the hills, and arrived at Kuranda where we found a bed for the night. After visiting the Aviary and the Australian Butterfly Farm in the morning, and surveying the tourist goods on sale in the market, we had lunch and departed for the Atherton Tablelands.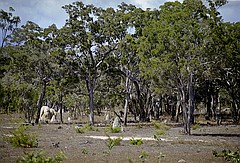 After driving for miles through farmland, we arrived at the highland rain forest around the two crater lakes, Lake Barrine and Lake Eacham. After consultation with the Lonely Planet, we settled on Chambers Wildlife Rainforest Lodge, which turned out to be an excellent choice. We met many rain forest residents here, both birds and mammals - some on our veranda!
We spent five days here, exploring the rainforest around the lodge, took a boat trip around Lake Barrine, and drove around the South Tableland for a day, targetting waterfalls. This is the Millstream Falls, widest falls in Australia. What was in the pool, Sue?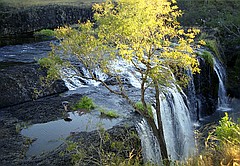 We set off northwards, with some suggestions for our next stop from John Chambers. When we stopped for mid-morning coffee, this beautiful bird (Yellow-breasted Sunbird) had a good look at us sitting around a table outside the coffee shop.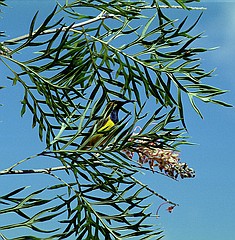 We saw many Australian birds in our travels, but found identification hard going because there are simply so many different species.
We had a beer and a bite to eat in the town of Mount Molloy (population 360) and carried on through many more miles of nothing very much. In Julatten, we found Kingfisher Park, which turned out to be another good piece of advice from Lonely Planet. Here we went Duck-billed Platypus Watching, which turned out to be quite similar to badger-watching - the only major difference seemed to be that we were successful first go!
After a few days, we set off for Daintree, but took a break at Mossman to walk up the Mossman Gorge - a beautiful rainforest area, with clear water swimming pools in the Mossman River, and trees with incredible buttress roots.
The highlight of our stay in Daintree was a bird-watching trip on the River Daintree with Chris Dahlburg. We got up before dawn, and when I stepped outside, I was astonished to find the dark grey sky blackened by thousands of large bats, all flying towards the river. They flew silently as distinct individuals about thirty feet up, but in the distance, they looked like a curling cloud of black smoke.
The bird-watching trip was excellent - about 12 of us in a small boat with Chris operating the outboard motor and pointing out the wildlife up and down the Daintree River, using a silent electric motor for exploring the creeks.We saw 41 bird species, as well as tree snakes, butterflies, some of the bats (flying foxes) that we had seen at dawn, and a glimpse of a saltwater crocodile.
And so to the ferry across the Daintree, with the amusing signs warning of the man-eating propensities of those saltwater crocodiles. From here, the road led to Cape Tribulation, and its beach fringed by mangrove swamp and rock pools containing coral trying to build a reef.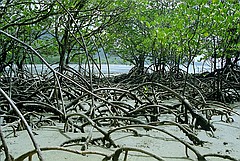 The beach at Cape Tribulation contained a mystery, the solution of which led to the Bennett theory of the origin of Aboriginal Art - you know those pictures representing people, animals and places made up of dots, circles and lines. Go here to find the inspiration of this distinctive and beautiful art - of course, there may be other ideas ...
Near Cape Trib, we stayed at Heritage Lodge. Here we went on a night walk with a guide, which was a bit like winter badger-watching, with the difference that that many people tramping through the Cheshire woods, flashing torches around, would result in nil wildlife observed.
And so our holiday in a beautiful and fascinating part of Australia ended. We left in the evening to catch the last ferry across the Daintree and drove through the night to get back to Cairns airport in time for our flight.
---
All text and graphics © Pat Bennett 1996-2002
---