After enduring numerous enthusiastic wildlife stories from friends and perusing the website about sea eagles on Mull, I decided that I simply had to take a look for myself. Mull did not disappoint!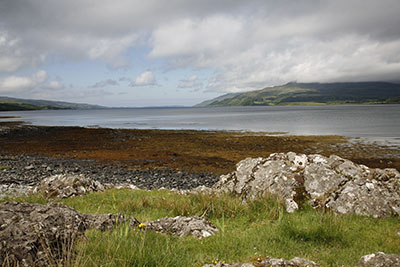 Loch Scridain on the road to Iona
Having made ourselves at home in the excellent campsite at Craignure, we went for a walk along the shore - rocky, lots of seaweed, and kelp a little bit deeper - and there was the otter, catching crabs. Over the next ten days, we walked the shore seven evenings, and saw otters four times. This contrasts with three weeks in the Shetlands, with otters my number one target, which resulted in one glimpse of an otter in the distance just before we left.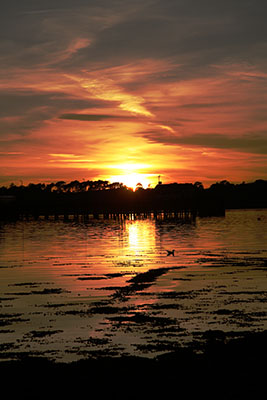 Sunset on Craignure harbour
Walking along the shore, I was continually accosted by common sandpipers and rock pipits who demanded that I took their photograph. As one pair lost interest in us as we passed through their nesting territory, the next would take us up, shouting at us to get our attention, then posing prettily on the rocks.
The trips to the sea eagle nesting site on Loch Frisa were booked up several days ahead, but a neighbour on the campsite who comes back to Mull regularly (as most vistors I talked to seem to do!) told me about another sea eagle nesting site not ten minutes away. So off we went to see, and there they were! A bonus was a herd of red deer, with the stags having antlers still in velvet - very photogenic.
| | |
| --- | --- |
| | We eventually got to see the eagles at Loch Frisa, but we could not get any closer to the birds than we had at the other nest site. However, a terrific bonus was a golden eagle which came over the ridge and soared immediately above us. |
My favourite photographs from Mull, however, was of a foreigner! I heard a rumour that an otter cub had been seen eating a fish on a rock near Craignure harbour, and this did not seem right to me. A couple of days later, the "otter cub" appeared from behind a rock with an eel in its jaws as I came up to the shore - a mink! Bold as brass, ferocious and cute!